. . . "This dude ROCKS !!

RESPECT this dude !!" . . .

- - - - - - - - - - - - - - ABOUT

ME - - - - - - - - - - - - - -

I am a very kind and friendly individual, thou seeing as I was born on Saturday 12th March 1988 which at the time in the old Chinese Zodiac was the year of the Dragon, I do tend to get quite bad tempered very easily like a bad tempered Dragon, so beware my dark side, but if your kind and polite to me, then we will get along splendidly

In the usual Zodiac, I'm a Pisces



A quick way of describing myself [even thou no one I know has ever described me in such a way], is that I have the loyalty of a Dog, combined with the bad tempered attitude of a Dragon.

AUTISM
----------
I suffer with Autism. If your not familiar with Autism, it's a condition that affects the Human brain. It causes me to have learning difficulties, it can make talking to people and being social sometimes difficult, thou it seems I have a bit of a good I.Q. according to what's featured in the blue box below with an I.Q. of 116. Not bad for a guy with learning differculties.



I also have a lazy eye, much like my favorite comedian Russell Howard [who me and my younger sister have seen in real life as we attend a recording of the first two episodes of his Comedy Central series 'Stand Up Central' on Monday 16th March 2015

], but you won't notice it in any pictures of me here on Deviant Art cos it makes me look a bit creepy. It's my right eye [your left if you look at me] that is the lazy one.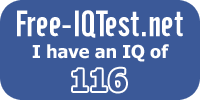 IQ Test

Unlike my younger sister

I'm not big on Anime and Manga. In the past I've enjoyed Pokemon and Yu-Gi-Oh! back in the day when they was brand new shows, but these days' my favorite is Death Note.

PHILOSOPHY
---------------
I'm a bit of a philosopher at heart. I sometimes like to say things like "Life is a Roller Coaster, you've just got to ride it, so don't fight it" [alright, that's an old Ronan Keating song

] or "Immortality is a curse, not a blessing".

LONDON MCM EXPO [A.K.A. MCM LONDON COMIC-CON]
------------------------------------------------------------------
Since May 2011, I have enjoyed attending the awesome London MCM Expo [a.k.a. MCM London Comic-Con]. The event is held during the last weekend of May and October every year inside the ExCel Centre in Newham, London. It's an enjoyable event of collecting and cosplay. I have uploaded many pictures taken at this extraordinary event.

If you happen to recognize me at London MCM Expo, then I'm more then happy to meet you, thou best to tell me your username because I don't know a lot of Deviant Art users by they're real name or what they look like on this site



Here's some Deviant Art friends and cosplayers who I know also attend this fantastic convention. A few I have personally met in real life